Everything Announced About BABYMETAL's 10th Anniversary
BABYMETAL is releasing an album titled "BEST ALBUM" in commemoration BABYMETAL's 10th anniversary. It will feature BABYMETAL's highlight songs that they have released.
It will be released in a whopping 10 different editions! 1 regular, 3 limited edition, 2 THE ONE limited edition, 3 "prophet" versions, and 1 "X" version. Sadly they will only be sold in Japan (at least for now).
This guide explains all the content that comes with it, listing every album version, every pre-order bonus, etc. Find the full info below.
---
Key Info
Release Date
December 23rd
Tracklist
Doki Doki ☆ Morning
Headbanger!!
Ijime, Dame, Zettai
Megitsune
Gimme Chocolate!!
Road of Resistance
KARATE
THE ONE
Distortion (feat. Alissa White-Gluz)
PA PA YA!! (feat. F.HERO)
The 10 tracks were remastered by mastering engineer Ted Jensen.
---
Video Teaser
---
All Versions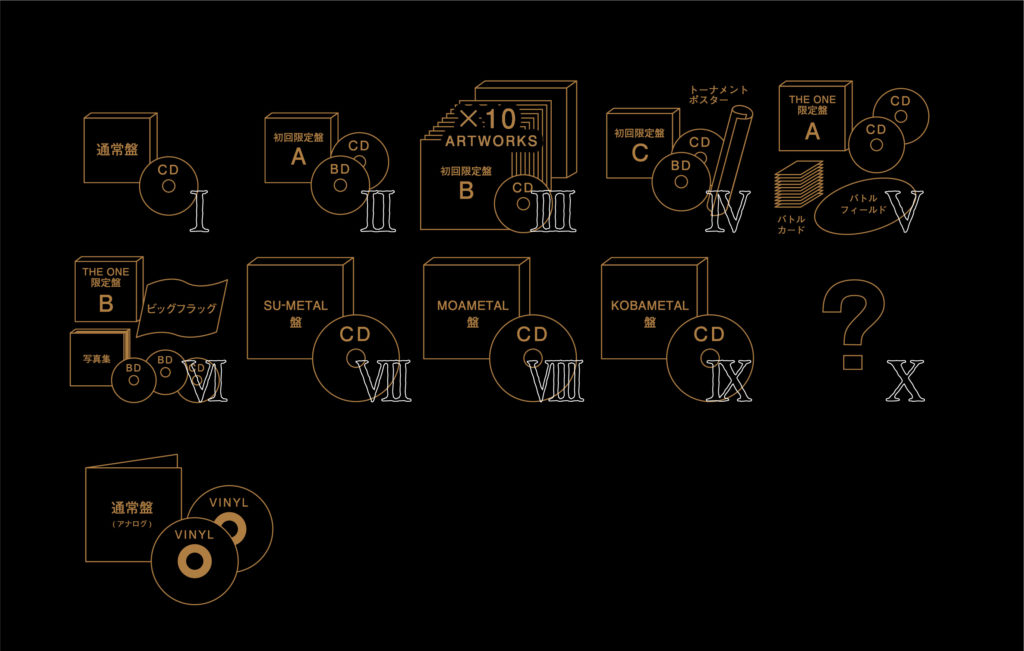 ① Standard Version
Contents:
CD
Vinyl
---
Limited Versions
② INITIAL LIMITED VERSION A
Contents:
CD with 10 songs
Blu-ray disc with all 16 previously released music videos ("Doki Doki Morning", "Iine!', "Headbanger!, "Ijime Dame, Zettai", "Megitsune", "Gimme Chocolate!!", "Road of Resistance", "KARATE", "THE ONE", "Distortion", "Starlight", "PA PA YA!!", "Elevator Girl [English ver.]", "Shanti Shanti Shanti". "DA DA DANCE", and "BxMxC")
Preview:
③ INITIAL LIMITED VERSION B
Contents:
CD with 10 songs
10 different LP-sized jackets composed of 10 new pictures of SU-METAL and MOAMETAL reflecting on the past 10 years they have journeyed.
④ INITIAL LIMITED VERSION C
Contents:
CD with 10 songs
A Blu-ray featuring "10 LEGEND MOVIES" which were selected by fans on the "10 LEGEND SONGS TOURNAMENT". Each of the chosen songs will be compiled with past live footage from different performances.
A poster
The songs are:
Ijime, Dame, Zettai
Onedari Daisakusen
Catch Me If You Can
Akatsuki
Distortion
Road of Resistance
PA PA YA!!
Megitsune
Headbanger!!
BABYMETAL DEATH
Preview of what the edits will look like:
---
THE ONE Versions
⑤ THE ONE LIMITED EDITION VERSION A "KARUTA BATTLE SET"
¥12.000 + tax
Pre-order ends Tue, Oct 13th at 12 PM (JST) SOLD OUT
Contents:
CD with 10 songs
Battle Cards (42 member photos)
Battle CD with KARUTA BATTLE track
Battle field to play KARUTA
⑥ THE ONE LIMITED EDITION VERSION B "CHRONICLE SET"
¥24.000
Pre-order ends The, Oct 22nd at 12 PM (JST) SOLD OUT
Contents:
CD with 10 songs
Blu-ray 1 with an interview of SU-METAL and MOAMETAL looking back on the past 10 years of their journey
Blu-ray 2 features live footage of the 10 songs featured on the CD
Photobook (72 pages) capturing exclusive photos of BABYMETAL's journey over the past 10 years
A big flag with a special 10th year design
---
PROPHET Versions
⑦ SU-METAL VERSION
⑧ MOAMETAL VERSION
⑨ KOBAMETAL VERSION
These feature a selection of each of their personal 10 best songs.
They are NOT FOR SALE. To obtain, one must one must first purchase any one of the initial limited versions ①〜⑥, each of which comes with 1 randomly distributed PROPHET CARD (S, M, or K) at random which has a unique serial number on it. With the card, one must guess what 10 songs were selected by that person (SU-METAL, MOAMETAL, or KOBAMETAL) and in the correct order.
Example: You buy the standard vinyl and get randomly get an "S" card. You would they have to pick and choose what you believe are SU-METAL's favorite BABYMETAL songs, and in order. If you get them right, you get a "⑦ SU-METAL VERSION".
The page to enter your answers opens on December 22nd.
Toys Factory has shared hints to find out SU-METAL and MOAMETAL's chosen songs
---
⑩ – X Version
Will not release alongside the other versions. The release date for this X version is something ONLY THE FOX GOD KNOWS. Wait and see what the FOX GOD has in store for the final piece to complete the 10 BABYMETAL YEARS!
Update: [This ended up being the 10 BABYMETAL BUDOKAN Complete Edition]
---
Bonuses
These are different bonus items for pre-ordering from different store or before a certain date.
Note that THE ONE editions do not come with any bonuses.
Pre-order before November 23rd at 23:59 PM (JST) and get a B2 Calendar Poster
Rakuten announced that those that pre-order before December 17th will get it shipped in a special Limited edition box:
---
Original Announcement Info

More info
Sources