The Kami Band is BABYMETAL's backing band for their live shows. Read all about their history and members below.
Backing Band
Kami stands for "God" in Japanese, making it the "God band". In BABYMETAL lore, the Kami band are gods of Metal sent to help BABYMETAL unite all the peoples of the world as ONE.
The Kami Band did not exist for BABYMETAL's creation, or first couple of years. They first appeared in 2012 for LEGEND I. Their first "big test" was the 2013 BABYMETAL DEATH MATCH Tour, 4 shows in Tokyo and Osaka, to prepare for bigger shows (LEGEND 1999 & 1997, Budokan, and the 2014 World Tour…).
Before the Kami Band, and while they were still being integrated into the shows, the BABYBONES were BABYMETAL's "fake" backing band. They did not play the instruments live, they were there for show.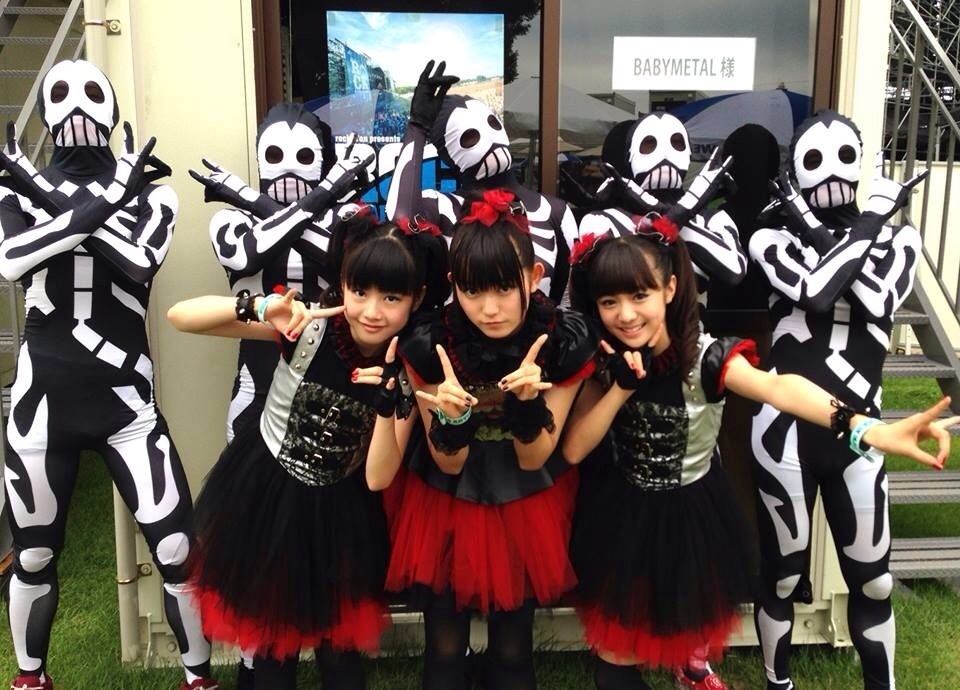 Kami Band Becomes Permanent
The Kami Band replaced the BABYBONES permanently at the Budokan shows in early 2014 and have appeared at every show since (except for 3 special shows, 2 of which they played with DragonForce, and the other where they played with Skrillex).
The Kami band plays live. They have played playback only 2 times for a TV show (TV Asahi MUSIC STATION SUPER LIVE 2014 and 2015) due to sound check issues.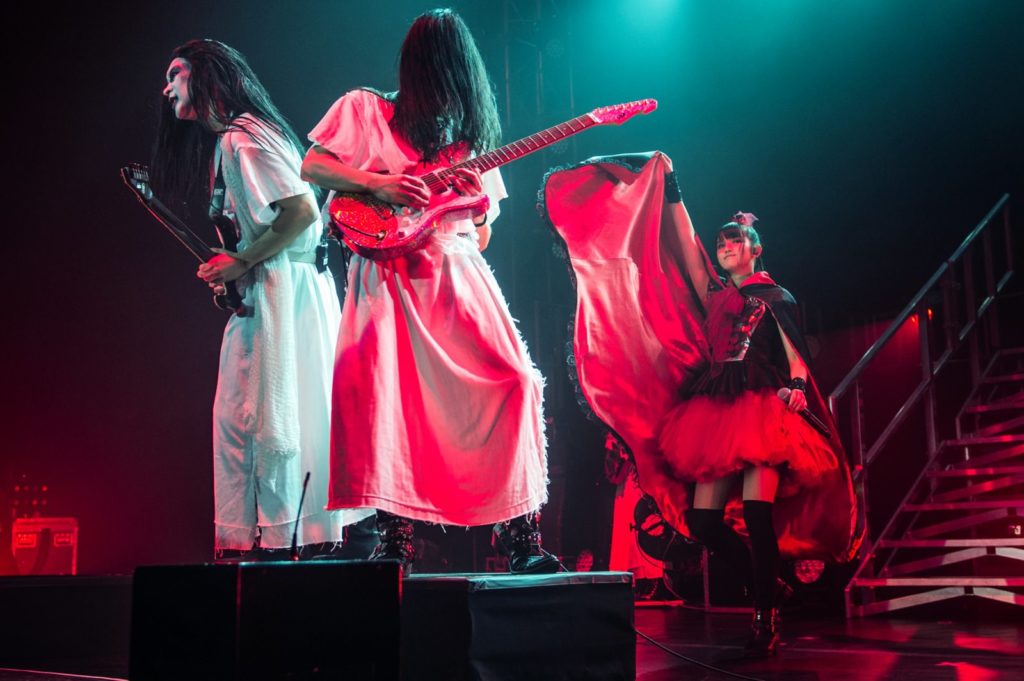 In early 2016 they stopped actively referring to their activities within BABYMETAL, only perhaps mentioning that they are travelling, or something to that extent.
We can't know which kami's will be at which show, we can only know who won't be there because they have other commitments.
For those wondering about the Kami Band member's involvment in music making… So far we only know of Leda having helped with the guitar and/or bass on several songs (Road of Resistance, Amore, No Rain, No Rainbow, Arkadia, etc.)
Miz is the only confirmed woman Kami member to date (all main members have been men, but there were a few unconfirmed players at the LEGEND S shows playing piano and violin).
---
2018 & 2019 Changes
In 2018 they had their first big outfit change, the stopped using the white robes and started using black ones with hoods. They wore the hoods for the first song (IN THE NAME OF), then took it off, mostly.
In 2019 they yet again had more substantial changes. First, they started using masks and changed the outfit (though it still remained black). And for the US tour, they played their first Kami Band ever with no Japanese players and all new Kami's. 3 of the players play in Galactic Empire, which had opened for BABYMETAL in Japan the year before, the other (the drummer) is from Shadow of Intent.
2020-Present
At LEGEND – METAL GALAXY (January 2020), the Kami Band members of the East (Japanese, BOH, Hideki, Ohmura, and LEDA were chosen) and the Kami Band members of the West (Americans) appeared on stage for both nights, performing together for the end song each night.
The following month BABYMETAL performed their first large tour of Europe and did so with the Western Kami Band members.
Shortly after the 2020 COVID-19 Pandemic led to countries closing down their borders, as well as internal activities. This led to far fewer shows than previous years, and meant that BABYMETAL could only performed locally in Japan, with the Japanese Kami Band.
---
Active Members
Any members that have performed in the last year.
Inactive Members
Last updated End of May 2021
---
To learn more about the most famous Kami's, please check out BABYMETAL Newswire's biographies (updated up till late 2017):
For their social media check the Essential Links page.
If you find any broken links, or think something should be added/amended on this guide, please message me via email or social media.