Note: This was mostly taken from the 2020 (21st birthday) post

2022 (23rd Birthday) note: Since there has been no public appearance since or updates on information, I will share the same post this year.
Moa Kikuchi was born on July 4th, 1999 in Aichi Prefecture, Japan.
When Moa was young, she started modeling, appearing in various magazines, ads, TV shows, and beauty pageants, among other things.
In 2010 along with Yui she joined Sakura Gakuin, and was the youngest (and shortest) member at the time. Both of them then went on to become founding members of the subunits Twinklestars and BABYMETAL, as well as being in the 2nd generation of Minipati. In 2014 she became the President of the 2014-2015 Nendo, which sadly coincided with BABYMETAL doing their first World Tour, which meant lots of weeks away from Japan, forcing her to miss events, such as Tokyo Idol Festival 2014 (she did send a video with Yui, though!). But don't worry, she had a blast in previous years.
After Yui's departure from BABYMETAL, she has now become a more important member of BABYMETAL. Since 2018 she has had to sing the BLACK BABYMETAL songs by herself with additional dancers. For LEGEND S in late 2017 she even performed completely alone for those songs! This is not the first time she performing a BABYMETAL song without Yui, as back in 2014 at the very important Budokan shows, YUIMETAL had fallen during Head Banger!! and disappeared making Moa and Su have to finish the song on their own. Yui reappeared for the next (and last) song of the night, IDZ, but sadly in this case Moa slipped during the initial run, and may have had to power through some pain during the full (extended) song.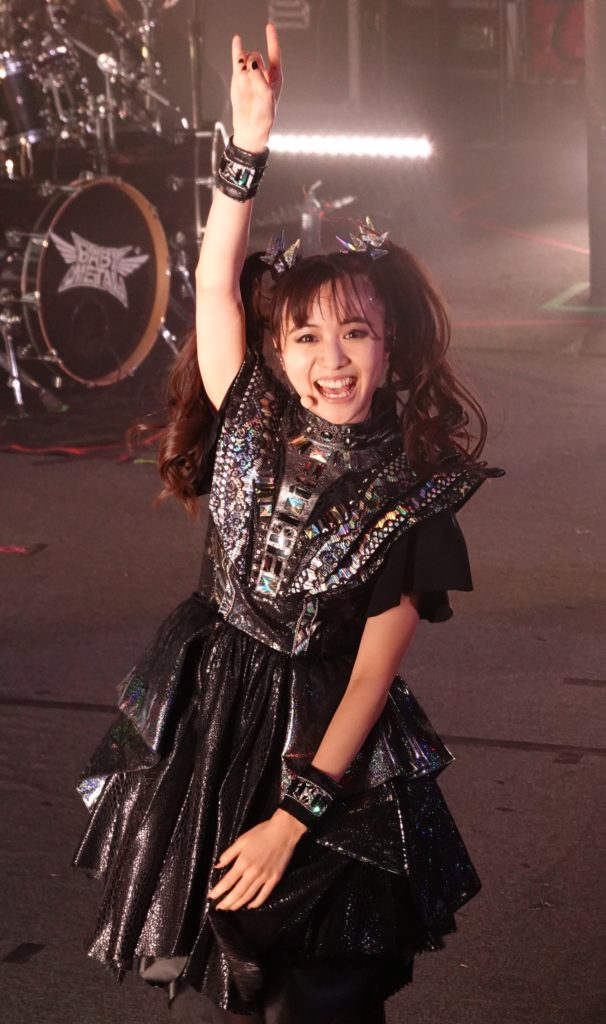 2 years ago she celebrated her most important birthday (20th) with a show in her hometown of Nagoya, LEGEND M! [Show Report] She made a spectacular entrance, attached to a "flying" BABYMETAL logo, and being able to do a special performance of Head Banger! and Shine (debut). Fun fact, this is actually the 2nd time they perform LEGEND M. BABYMETAL performed LEGEND Y and LEGEND M in 2014 in Europe, in Paris, France and Cologne, Germany, respectively. That was the first time either of them sang Head Banger!! 2nd time being at the APOCRYPHA Y and M shows that same month back in Tokyo, Japan, and then for a 3rd time at LEGEND M.
---
BABYMETAL Official: Tweet – Facebook (3D Image) – Instagram
Happy Birthday 🎂 Today is the birthday of 2014 graduate, Moa Kikuchi 🎂 Happy 22nd birthday🎉She is always watching over us with kindness, and with the "love" she has for Sakura Gakuin, she will run towards the last stage with the current students, so please support her 😉 We wish her a wonderful year ahead💕.
Ohmura added a birthday cake to his Twitter name:
BOH:
🤘( B`o´H)/
(っB'o'H)╮ =͟͟͞͞㊗️🦊🔥⚡️
Ikuo Minewaki (Tower Records President and self-professed "Biggest Moa fan"):
Congratulations on your 22nd birthday, Moa Kikuchi! I wish you a wonderful year! I'm rooting for you! !!!!!
The first issue, Vol. 1, was released on July 4, 2013, which means that today is (MOAMETAL's) birthday. Eight years have flown by, and I'll do my best to keep Hedoban alive in its ninth year.
---
Official Posts From Previous Years
2012 (13): BABYMETAL
2013 (14): BABYMETAL – BABYMETAL (Rock Beats Cancer FES Vol.2) – Sakura Gakuin
2014 (15): BABYMETAL 1 (poster – LEGEND M) – BABYMETAL 2 (post show) – Sakura Gakuin
2015 (16): BABYMETAL – Sakura Gakuin
2016 (17): BABYMETAL – Sakura Gakuin (no pic)
2017 (18): BABYMETAL – Sakura Gakuin (no pic)
2018 (19): BABYMETAL – Sakura Gakuin (no pic)
2019 (20): BABYMETAL – Sakura Gakuin (no pic)
2020 (21): BABYMETAL – Sakura Gakuin (no pic)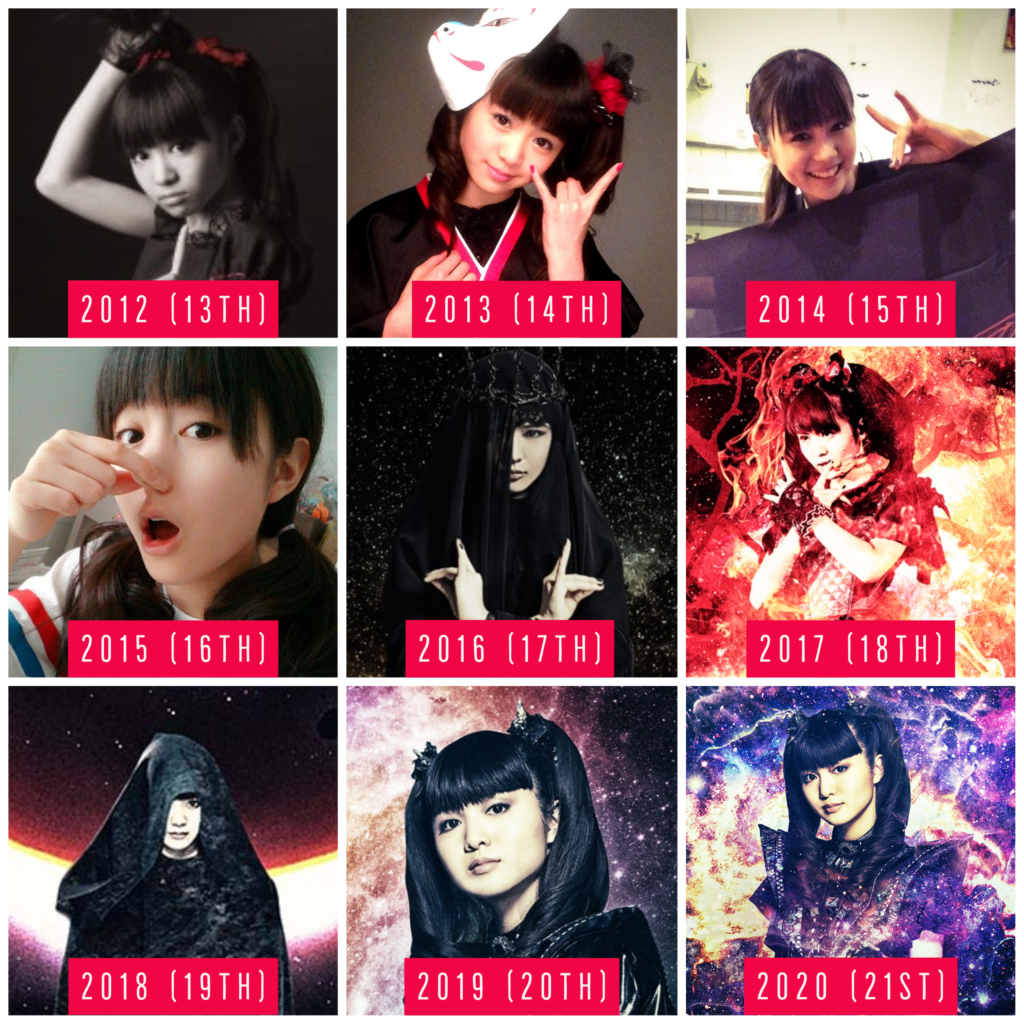 ---
Credit for the main picture to Muto from Seattle, Washington, USA on October 21st, 2019.