We now have the dates and ticket info for the livestream which was announced last month. It will be on Saturday, December 12th at 9 PM. The ticket cost is ¥7,000 and it comes with a long sleeve T-shirt. Sadly this adds quite a large cost for overseas fans, as shipping is around ¥5,000 alone.
Below you can find all the info, as well as some tips from what people have encountered while setting it all up.
---
Stream Info
Date and Time: Saturday, December 12th (Opens at 8 PM, starts at 9 PM)
Venue: Meguro Rokumeikan
Archive Watching Period: Dec 12th at 9 PM – Dec 17th at 11:59PM
Sales Period: from now until Dec 17th at 11:59PM
Ticket
Comes with the BONE LONG SLEEVE T-SHIRT
TEE Designed by HIROSUKE (BALZAC)
Price: ¥7,000 (tax included)
You must log into THE ONE members website to purchase a ticket. If you are not yet a THE ONE member, you have to purchase the membership tee by Sunday, November 29th at 23:59. [THE ONE Membership Guide]
Merch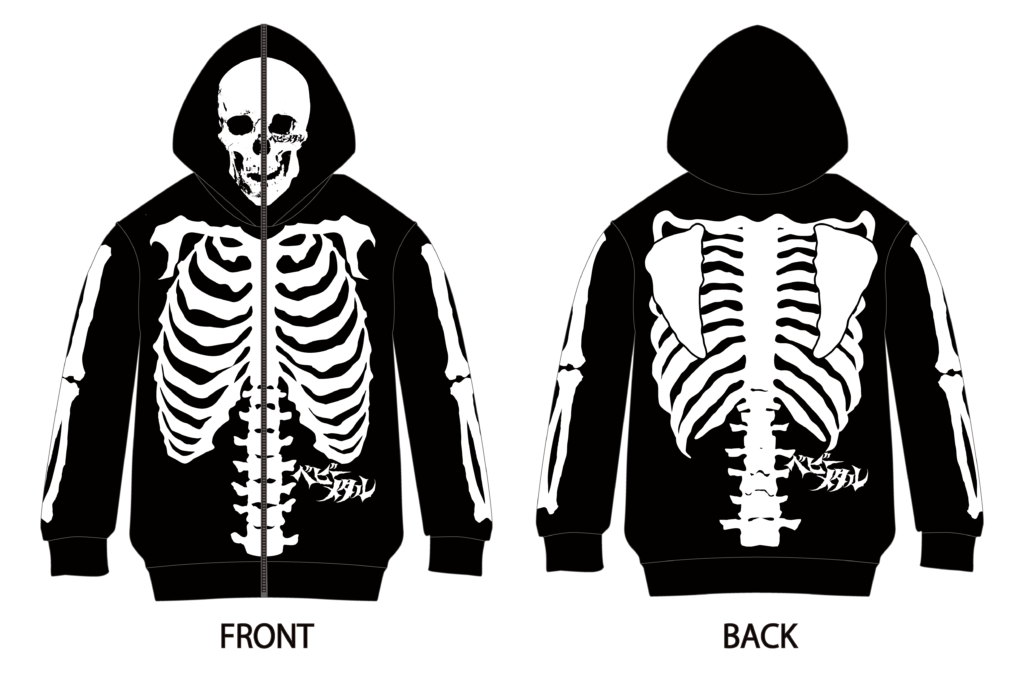 Bone Hoodie – ¥12,000
Bone Bottoms – ¥9,000
Bone Glove – ¥3,500
"Stay Metal" Face Towel – ¥2,500
"Stay Metal" Rubber Band – ¥1,000
– Must buy a ticket/long-sleeve T-shirt to buy the rest of the merch
– 1 item per type per member
– Merch will be shipped from the beginning of February to the end of March.
---
Some Additional Notes
Step-by-step guide made by Grab on the BABYMETAL Discord
You need to have an A!ID so you can link to your Liveship account (livestream website). You can create one here.
I'd recommend following the link from THE ONE website, there seems to be issues for some when opening the link directly.
"Play" with your address a bit, as some encounters issues such as: having to input a shorter zip code for it to work, having to fill in the 2nd address line even though they don't have anything else to add, etc.
When selecting where you live, "outside Japan" or "overseas" is at the bottom of the list.
Shipping seems even more expensive than A!Smart's usual. So expect to pay about ¥12,000 or so.
On Step 2, remember that you need to check on each item, even if you don't want them (choose the "don't want" option at the bottom).
On Step 4 remember to click on the checkbox "when shipping overseas"
---
Full text from announcement:
An all-new online streaming performance STAY METAL STAY ROCK-MAY-KAN will be available to THE ONE at 9:00 PM December 12th, 2020!

The purpose of this event is to express BABYMETAL's gratitude toward THE ONE members who have continuously shown their support and also to support the Meguro ROCK-MAY-KAN venue and BABYMETAL touring staff.
Those who have purchased THE ONE members exclusive item BONE LONG SLEEVE T-SHIRT will obtain a GOLDEN TICKET, which is a token of gratitude from BABYMETAL and will grant access to viewing an all-new exclusive performance of BABYMETAL at the Meguro ROCK-MAY-KAN. *Please note that a portion of the proceeds will be distributed to support the venue and staff.

■10 BABYMETAL YEARS presents "Rock-May-Kan" virtual night! Message from BABYMETAL regarding their 10-year journey: STAY METAL STAY ROCK-MAY-KAN
Full text from special website (deep L translation):
BABYMETAL presents "STAY METAL STAY ROCK-MAY-KAN", a holy party to mark the 10th anniversary of BABYMETAL's formation, will be held virtually at the sacred place "Meguro Rokumeikan" with THE ONE members! To participate in the banquet, you must first get the "bone armor"!
In addition, we have prepared a variety of premium goods to accompany the "Bony Armor", so check it out! And only the one who got the 'Bone Armor' would receive a 'Golden Ticket' from BABYMETAL!

Once you have your "Golden Ticket", you'll be invited to the time travel movie of BABYMETAL's 10 years of LEGEND, and you'll be able to experience BABYMETAL's premium performance at Meguro Rokumeikan in the virtual world!

And the spirit of STAY METAL of THE ONE members is gathered, and Support the sacred place "Meguro Shikamei Kan" to keep the light of METAL alive until the day when everyone gathers again!
A message from BABYMETAL, who has been connecting 10 years of LEGEND. STAY METAL STAY ROCK-MAY-KAN

This event is a thanksgiving to THE ONE members who support BABYMETAL, as well as to repay the kindness to Meguro Rokumei Kan and BABYMETAL crew.
THE ONE member-only "Bone Long Sleeve Tee" customers will receive a "Golden Ticket" to watch the premium video recorded at Meguro Rokumeikan as a token of our gratitude to THE ONE members. A portion of the proceeds will be used to support you.
A portion of the proceeds will be used to support you.
---
Sources