BABYMETAL played their last show of the year at the Makuhari Messe for COUNTDOWN JAPAN 19/20 Festival. They played a relatively long setlist (compared to their usual 7-song setlists), even if you don't include FUTURE METAL.
Day 1 (the day BABYMETAL played) will be broadcast on WOWOW on Wednesday, February 18th at 9 AM. We don't know if BM is included, but they have broadcasted at least 1 song in their previous years, so very likely, I'd say.
BABYMETAL will play the same exact hall they just played at (Halls 1-3) for the huge LEGEND – METAL GALAXY shows next month (January 26th and 27th). A fun fact, the Makuhari Messe is by far the venue they've played the most at, and with those shows they will have played over 20 times there!
Read all about the show, check out videos, pictures, and more goodies, below.
---
Show Info
Setlist
FUTURE METAL
DA DA DANCE
Gimme Chocolate!!
Shanti Shanti Shanti
Kagerou (with Kami solo)
Distortion
Megitsune
PA PA YA !!
KARATE
Road of Resistance
Kami Band
Avenger
Where: Makuhari Messe, Chiba, Japan (Tokyo area) on the EARTH STAGE
---
Amazon Music Video Message And Picture
Fan Pictures
---
Kami Band Post-show Messages
Going Home 🤘(B'o H)/ 🍺

"The Second" of the Provisional BAND
I retweeted only a small part of the MV of Groove.

It is scheduled to be able to upload the entire MV by the middle of next month.
I couldn't make it in time for the end of the year, so I'm done.
I would be happy if you could feel the atmosphere 🎸 alone > RT
A tumultuous week…
I was allowed to beat the last of this year with all my might.🔥
I've done four in a row!
Thank you very much! _ (: 3)) ∠_ ️
Ohmura is returning home☺️
It's been a long day.🎸
I'm happy to be able to practice again for next year.🤘
What was your day like❓
---
Other Cool Stuff
Signatures still on the 2013 sign:
Su drawing on fan message board:
Picture of the cloak (where people store their belongings)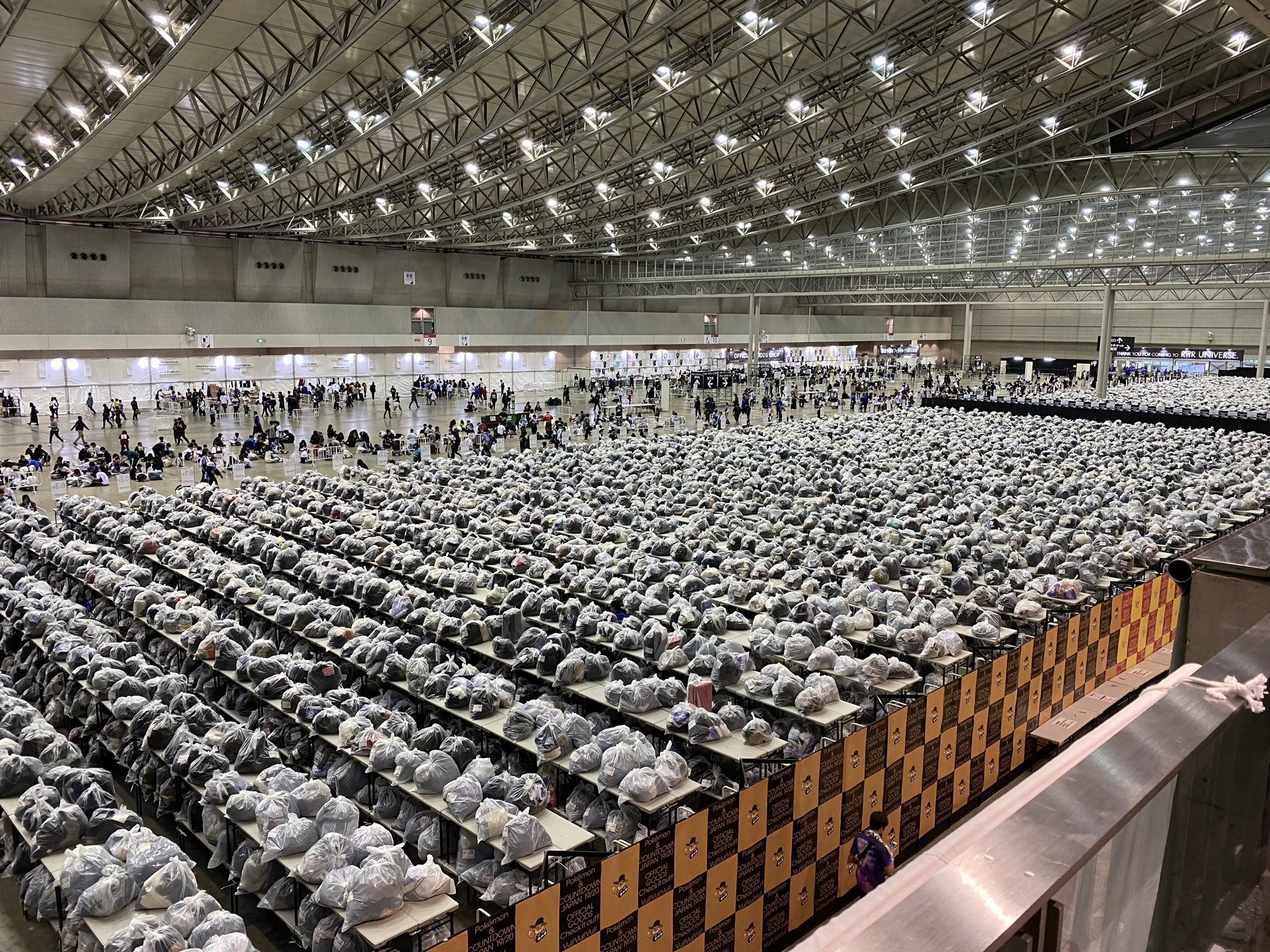 Random pics:
---
Merchandise, Map, And Schedule
More info on merch (along with everything available)
Full festival timetable (for Saturday):
Venue map: