As fans awaited THE OTHER ONE to reach 100%, BABYMETAL has shared a new video in which they tell fans that the restoration project reached 99%, and the remaining 1% is them.
In the same video they make two announcements, first that they will perform the first shows since they were sealed last year in Japan at the end of January 2023, and secondly that they will release a concept album with the 10 songs from THE OTHER ONE restoration project in March 2023, with some digital releases to come before then.
The shows will be on January 28th and 29th at the Makuhari Messe International Exhibition near Tokyo, Japan. Pre-order for tickets starts in just a few hours. You can find more information in this post.
As for the album, as mentioned the 10 songs are for the restoration project and will feature 10 "parallel worlds" sealed in "THE OTHER ONE – BLACK BOX". The five singles will be released digitally and via streaming in October, November, January, February and March (specific dates have not been announced). There are many different versions, some only sold in Japan, some only overseas. For more information, read this post.
---
On top of that, they released a schedule on their website which shows what will happen each month until April 2023.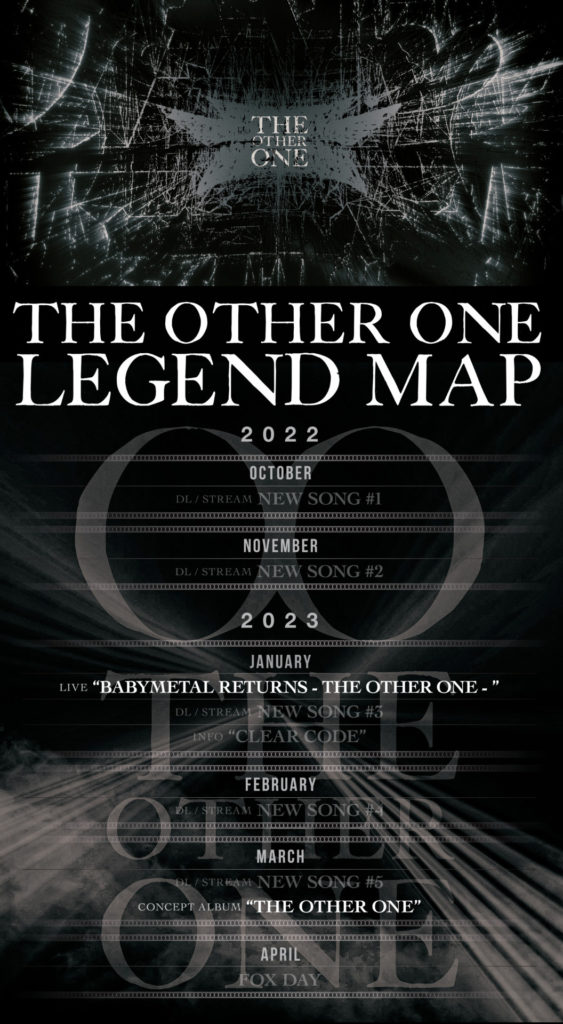 October
New Song #1 – Download/Stream
November
New Song #2 – Download/Stream
January
"BABYMETAL RETURNS – THE OTHER ONE -"
New Song #3 – Download/Stream
Info "Clear Code"
February
New Song #4 – Download/Stream
March
New Song #5 – Download/Stream
CONCEPT ALBUM – "THE OTHER ONE"
April
---
Sources: