I'm guessing I don't need to state how big this show is for BABYMETAL. But just in case: METAL GALAXY release show, streamed live to theaters in Japan, new song debuts, first arena show in the US, first solo show pro-shot in the US, etc.
Sadly, I must mention Typhoon No. 19 (better known as Hagibis), which passed over Japan right as the show was happening in Los Angeles. It was one of the worst Typhoon's to hit Japan in decades. There was widespread damage, and dozens of people died. I want to take this moment to express my heartfelt condolences to everyone who suffered because of it.
On the BABYMETAL-side, there were supposed to be over 50 theaters showing the show live (the biggest ever for BABYMETAL, after LEGEND M's broadcast this year), however, almost all Tokyo (Kanto) and Nagoya (Aichi) theaters, along with a few others, were closed, so it did not go ahead as scheduled. BABYMETAL and Live Viewing shared info on how to get refunds, and also that there will be a delayed broadcast in November.
With that in mind, the show was still amazing. Starting off with an intro as told by SU-METAL, then a very interesting video showing a ship (the one used in PR since the start of the year) flying through space, and SU-METAL and MOAMETAL being built, set to the tune of FUTURE METAL, culminating in a laser-inscribed BABYMETAL logo on screen. All that led into the debut for the night, DA DA DANCE. The show continued with most of the songs played this tour, but instead of ending after Road of Resistance, there was an encore (long enough for many fans to think it was over and leave), and after they debuted (in the US) both Shine and Arkadia!
All of this happened on a moving platform (similar to the one used in Japan in June/July), with great effects, and with rotating Avengers! Momoko came out for a few songs, then Riho, they switched a few times.
Just like with the shows in June/July, and seemingly a regular now, BABYMETAL themselves posted some pro-shot footage from the show in the days after. We know that a WOWOW broadcast will be happening in January!
You can find all the pro-shot clips, pictures, setlist, members, backstage pictures, and even a video leak from the rehearsal, below.
---
January 2020 update: WOWOW broadcast
January 2020 update: THE ONE version of the blu-ray announced
January 2020 update: DA DA DANCE Music Video release
March 2020 update: the full Blu-ray/DVD set was announced. It will release on May 13th. There will be a regular version (only available in Japan) and another only for THE ONE members, which includes Audio CD's and a photobook.
Show Info
Setlist
— FUTURE METAL (video) —
1- DA DA DANCE [Momoko]
2- Megitsune [Momoko]
3- Elevator Girl (English version) [Momoko]
4- Shanti Shanti Shanti [Momoko]
— Kami Solo —
5- Kagerou [Riho]
6- Starlight [Riho]
7- Gimme Chocolate!! [Riho]
8- PA PA YA!! [Riho]
9- Distortion [Momoko]
10- KARATE [Momoko]
11- Head Banger! [Momoko]
12- Road of Resistance [Momoko]
— Encore —
13- Shine [Riho]
14- Arkadia [Riho]
Kami Band
Drums: Anthony Barone (Shadows of Intent)
Guitar: Chris Kelly (Galactic Empire)
Bass: Clint Tustin (Galactic Empire)
Guitar: CJ Masciantonio (Galactic Empire)
Chosen Avenger
Momoko Okazaki
Riho Sayashi
---
Pro-shot Videos
DA DA DANCE Music Video
Pro-shot Clips
---
Pro-shot Pictures
Outburn Mag – BABYMETAL Official (pics):
MXDWN (Review by REUBEN MERRINGER – Photos by Ekaterina Gorbacheva)
Spectrum Culture – Mick Jacobs: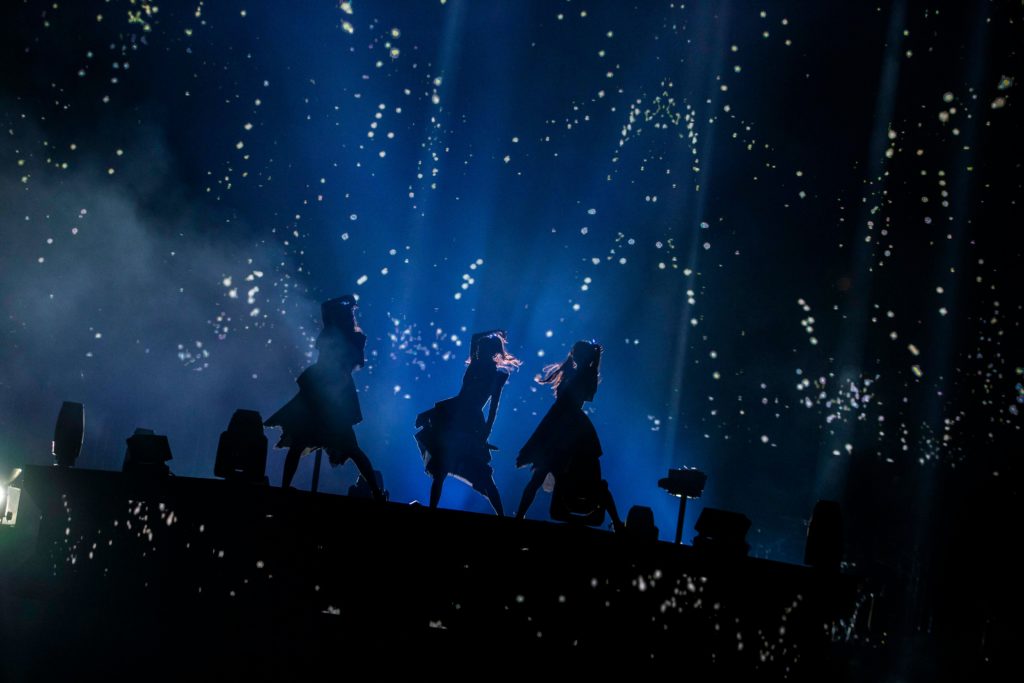 ---
Backstage Pictures
---
Merchandise
---
Leaked Rehearsal Video
It was leaked by a staff member.
Other Stuff
KOBAMETAL Spotted
He was spotted at the show both before and after, he was seen thanking the crew members after the show:
Japanese TV News
All Access Staging Gear From Show