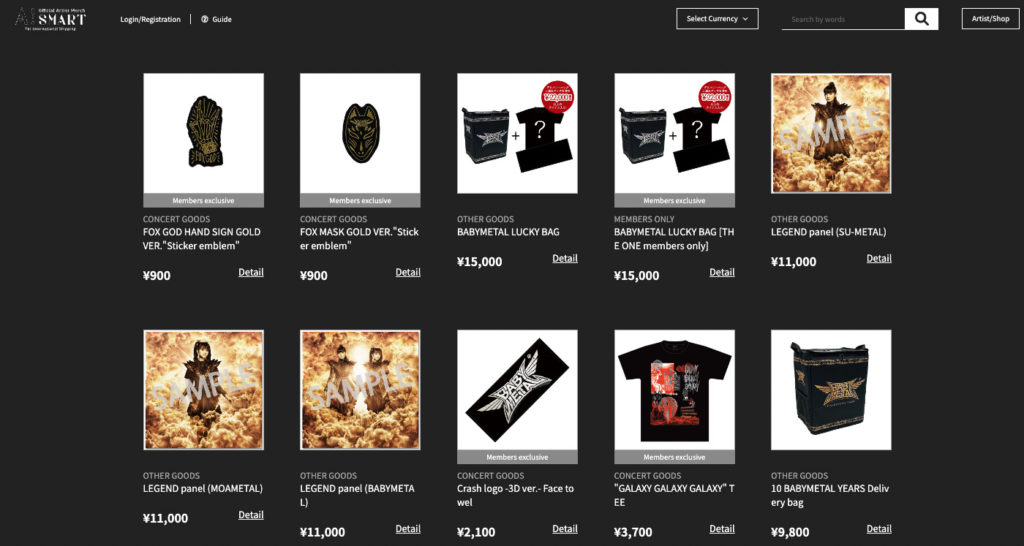 The first thing anyone will notice is that the entire website design is different. It now features a more modern look, and BABYMETAL's page now has a dark background, which is easier on the eyes in dark environments. There are some deficiencies with this new style too, however, such as that it shows less information in the same space and it doesn't label products as in stock or not (though you can filter those out).
The website also used to have a different style on the international website than the domestic (Japanese) one, now both are the same. The international website is now also natively translated into English, it no longer uses Google-translate integration. Though this also means it is only in English, not other languages like before. Another benefit of the change is it no longer asks you every time to enter your language, which was especially complicated when opening a link to a product, as it redirected you to the main page regardless.
They have also changed the system of how accounts work. It is now required for an A!Smart account to be linked to an A!-ID (Amuse) account. So, if you have an A!-ID account (if you are signed up for THE OTHER ONE, you have one!) simply login here and connect both accounts. If not, choose to create an account instead (use the same email as your A!Smart account and it should connect them too).
Note: it seems the website is putting the wrong birthdate, regardless of what people put before, but there is no way to change it at the moment, so hopefully this will be fixed at some point.
Due to this change, this also means that international accounts can now have the benefit of Amuse points! These points can be used as discounts on products on A!Smart (1 point = 1 yen discount). You can get points by buying products (1% return) or via a weekly lottery (it resets every Wednesday). The amount of points you get is random, and depends on the level your account is:
You also get 500 points on your birthday. Though do note that Amuse points expire (the time varies depending on the type).
On top of all of this, they are also adding Fedex as a delivery option alongside DHL and Tenso (proxy delivery system) on August 2022.
Finally, favorites have now been added, so you can add any artist (including BABYMETAL) as a favorite to access their shop quicker.
---
In commemoration they are offering a chance to get a 1,000 yen coupon if you follow their Twitter account and retweet this tweet. You must have a public account and do it before the end of July 31st (Japan time). Results will be announced mid-August.