BABYMETAL has announced 2 things today. First, a Live Viewing in Japan where they will show "re-edited versions" of each of the sets of shows from the "10 BABYMETAL BUDOKAN" shows (so, 5 in total) in movie theaters across Japan, from October 1st to 5th. Secondly, a second EXHIBITION, which will have live photos and areas that reproduce the stage set used during the "10 BABYMETAL BUDOKAN" shows. It will be held in Shibuya, Tokyo (location to be announced later) from September 28th to October 10th.
Also of note, these 2 events fill in the spots on the "10 BABYMETAL YEARS LEGEND MAP" on the LIVING LEGEND website. This means there are now no more spots left to fill.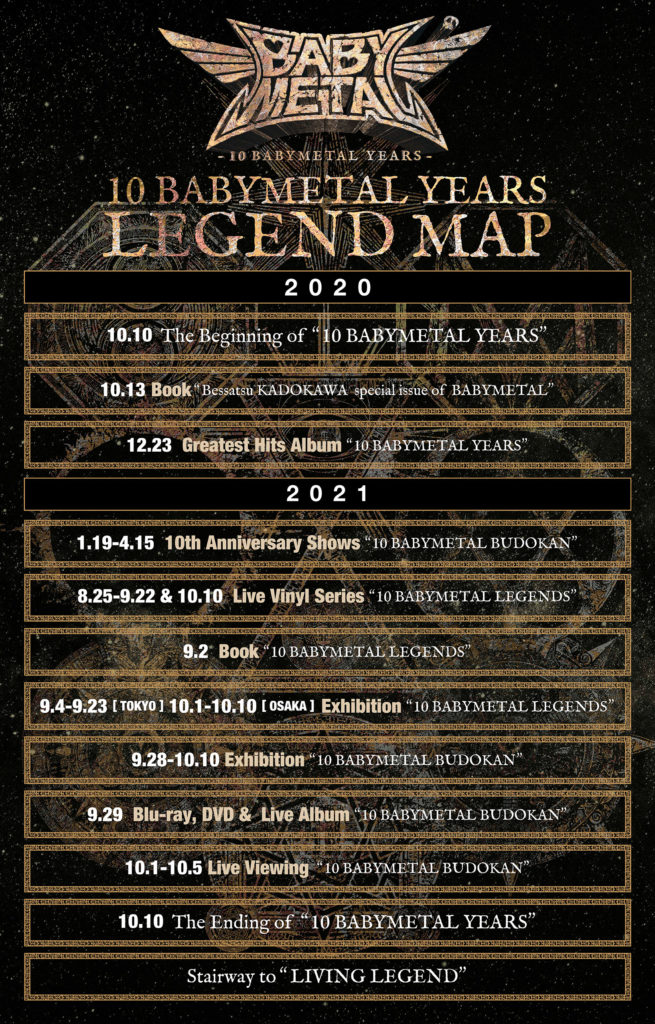 ---
Live Viewing – "10 BABYMETAL BUDOKAN – COMPLETE EDITION – FILM SCREENING"
Trailer:
Dates & Times
[DOOMSDAY – I & II] Friday, October 1st at 7 PM
[DOOMSDAY – III & IV] Saturday, October 2nd at 5 PM
[DOOMSDAY – V & VI] Sunday, October 3rd at 5 PM
[DOOMSDAY – VII & VIII] Monday, October 4th at 7 PM
[DOOMSDAY – Ⅸ & Ⅹ] Tuesday, October 5th at 7 PM
Venues
There are a total of 30 theaters which will participate across Japan. Full list on the Live Viewing website.
Admission Fee
¥3,000 for each performance (tax included / all seats reserved)
Ticket Schedule / Application
Up to 2 tickets per person
THE ONE member ticket advance registration (lottery)
Date & Time: Thursday, September 2nd at 12 PM ~ Sunday, September 5th at 11:59 PM
Purchase Link: THE ONE website
Pre-Request (Lottery)
Date & Time: Friday, September 3rd at 12 PM ~ Sunday, September 5th at 11:59 PM Purchase Link: Lawson Ticket
General sale (first-come, first-served)
Date & Time: Saturday, September 25th at 6PM ~ Thursday, September 30th at 12 PM
Purchase Link: Lawson Ticket
---
Sources: