This includes all 4 solo shows in Thailand, Malaysia, Indonesia, and Taiwan, as well as KNOTFEST JAPAN. No announcement yet on PULP SUMMER SLAM (Philippines festival in May).
It appears that tickets will work for the rescheduled shows, but refunds will be given to those that ask for them (info will be shared later).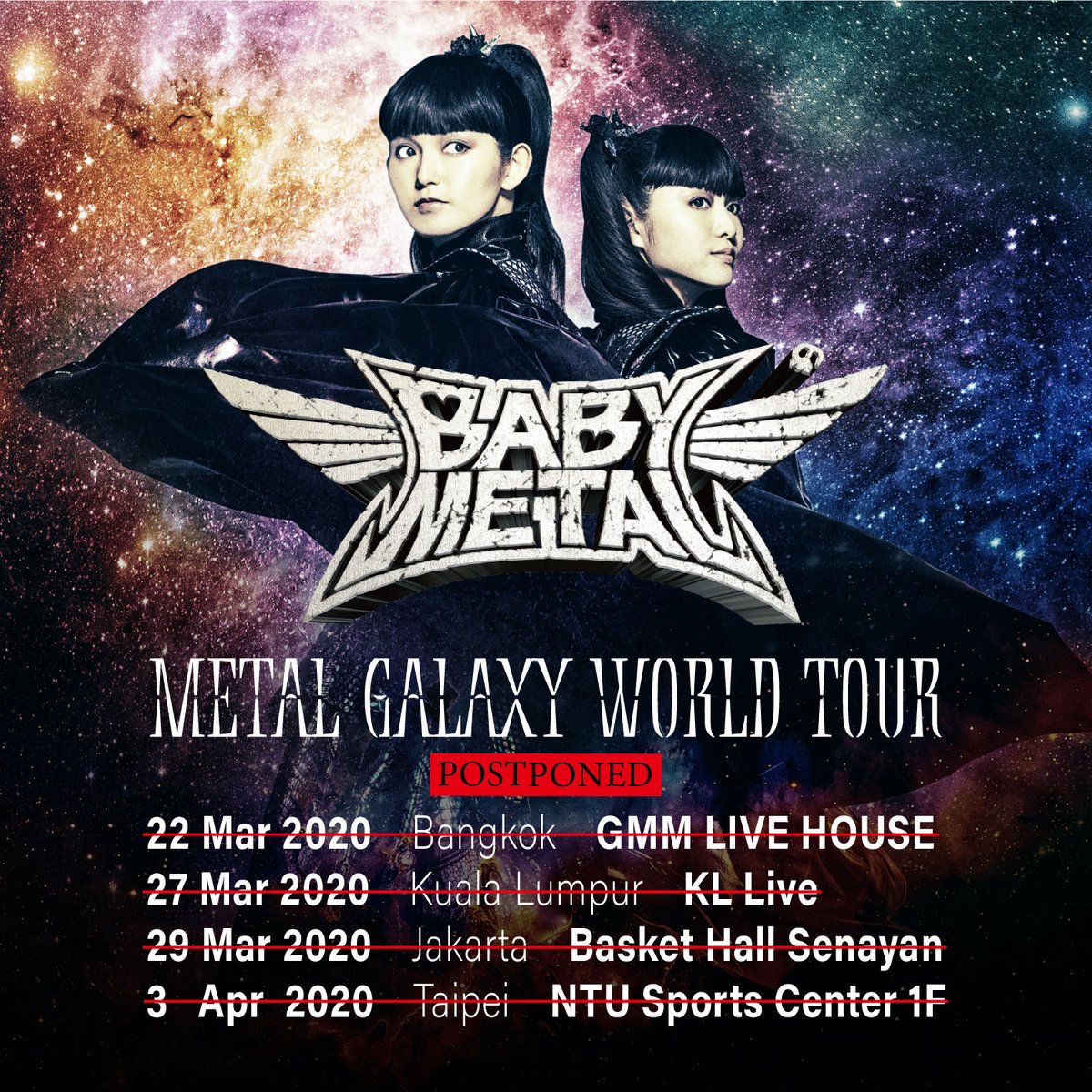 We regret to announce that BABYMETAL "METAL GALAXY WORLD TOUR IN ASIA" have been postponed due to current health and travel concerns caused by Coronavirus (COVID-19). Specifically, the following shows have been postponed:

Mar 22 (SUN) Bangkok
Mar 27 (FRI) Kuala Lumpur
Mar 29 (SUN) Jakarta
Apr 3 (FRI) Taipei

We apologize for any inconvenience this causes and thank you for your understanding.

We are currently working on potential arrangements in connection with this postponement, including refunding of the tickets. Please hang on to your tickets. Details on such arrangements will be announced in due course. Please check the organizers' official websites, as follows, for updates:
As a result of the current situation in connection with the coronavirus mandates in Japan and after thorough discussions with KNOTFEST organizers & Slipknot concerning the safety of the fans, artists, staff and everyone involved, we regretfully announce the postponement of KNOTFEST JAPAN 2020 originally scheduled for March 20th 2020 and March 21st 2020 at Makuhari Messe.

We are working with Slipknot and their management team on the new dates and will provide updates and announcements on the KNOTFEST JAPAN website and socials as details are confirmed.

For customers who wish to keep their tickets, please store your purchased tickets in a safe place as they will be valid for the rescheduled dates. For customers who wish to receive a refund, please hold on to your tickets until we announce full details of the refund process.

Slipknot, their management, and our entire staff sincerely apologize for any inconveniences this has caused customers who have been looking forward to the festival.

H.I.P.
This has been speculated for a while among fans, and became much closer to being a reality after the Indonesian government suspended the promoters license yesterday.
This is a sad situation, especially since this is the first Asian tour. Hopefully it can be rescheduled in the near future.
It's also the 2nd ever cancellation for BABYMETAL, after last year's Hong Kong festival cancelation, and is (hopefully) the lowest point of a World Tour with so many problems (outside of BABYMETAL's control). Truly sad to see their largest world tour plagued with so many problems cause by nature.