This is only a partial translation of some of the questions. The magazine includes a lot more things (some yet to be translated) they include:
Long interview with BABYMETAL
KOBAMETAL interview
MIKIKOMETAL interview
New York Show Report
Amazon Japan link to purchase (¥1,300)
Credit to KNAOSHI-METAL for the translation! You can find further discussion in the comments of the original post on Reddit.
---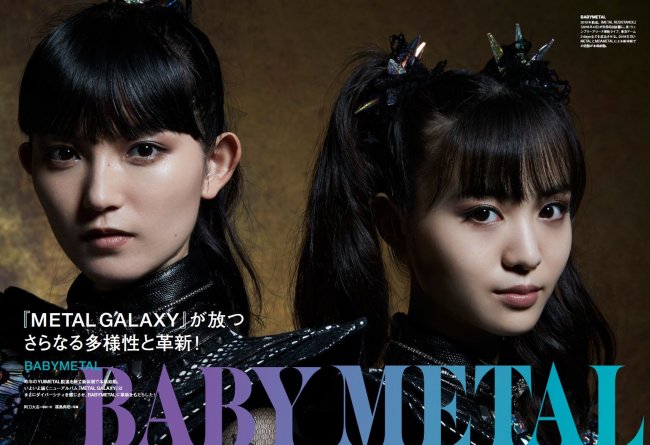 Q1: How're you feeling now?
Moa: Hungry! I need fried chickens.
Q16: What was the interesting English words you learned recently?
Su: Vertical horizontal.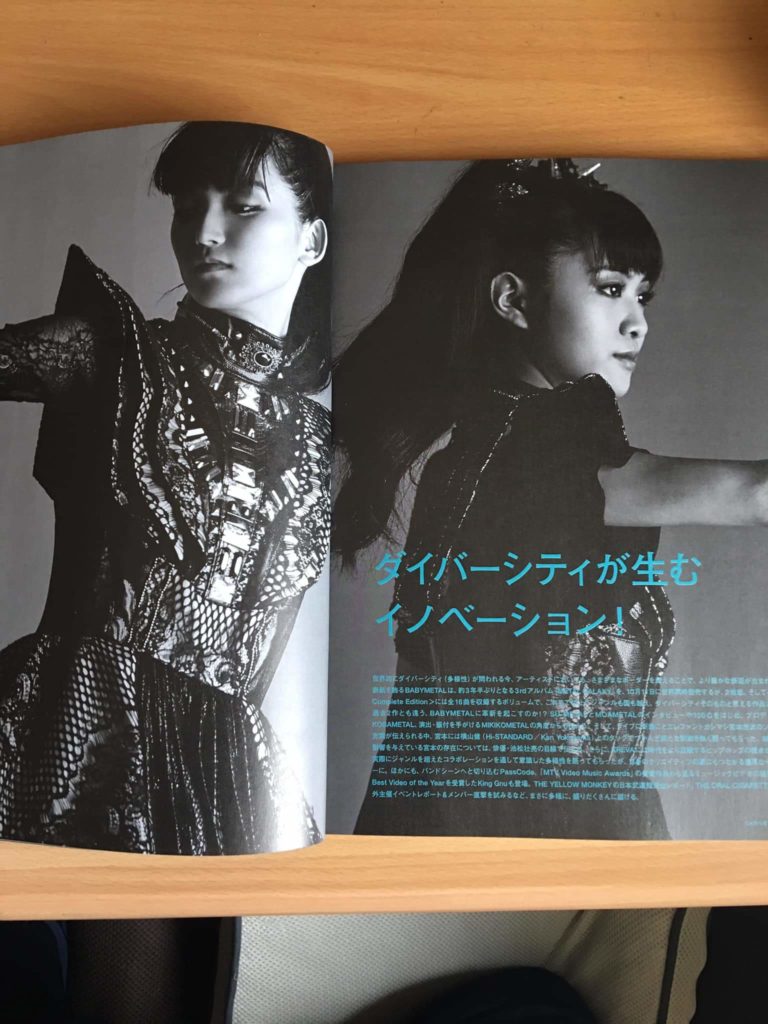 Q18: I heard the show in O2 academy was excellent. What did you get there?
Su: Fans in UK were really really warm. I was almost saying "I came back home!" I recognized that the UK has become like a home for us.
Q25: Did you have any interaction with other artists at the Summer Sonic?
Moa: We had a fun at backstage this year, since many friends there! We met RHCP after a long time since the last tour. They were very kind as before and cared about us, and said to us "Let's play the gimme chocolate together again"!
Q37: Question about the Metal Galaxy. This is your third album and I think your experience level is going up. How was the recording this time?
Su: It took the longest time for recording than previous albums. I tried various challenges this time, example for, I tried different singing methods for each song…
Q62: What did you feel most about the support from your fans?
Su: The fans sang instead of Yui at the legends S.
Q65: What was the most impressed food recently?
Moa: Eel dishes at the Summer Sonic Osaka.
Q79: What country or place do you want to go to?
Moa: Southern countries. Australia was really wonderful, so, love to go again. And I want to go to other southern countries besides Australia too.
Q87: Who would you like to go tour with?
Su: Metallica-san
---
Here are some using Google Translate:
Q8: What was the toughest overseas tour or live?
Moa: Kansas performance on the first day of last year's US tour was hard. It was very sad that their consciousness and eyes were different from our performance. It was an event that I thought, "Why do we here?"
Q13: You were taking photos with Billie Eilish at Glastonbury, did you have some talk?
Moa: I like Billie Eilish for some time, so I was happy to take pictures. She praised our costume, "Your costume is cute." Next time I see her, I will do my best to make her interested in ourselves (laughs).
Q17: What English phrases have you recently learned?"
Moa: "You're on fire!"
Q22: MOAMETAL, you challenged to play guitar in live, how did you challenge it? Moa: Elementary 2nd or 3rd year? I learned to play guitar at that time, after junior high school, I was too busy to go to the guitar class, but sometimes I played at home.
Q23: How about actually challenging yourself? To be honest, are you confident?
Moa: The code I received first was difficult (laughs). It's changed to be easier to play twice and three times.
Q93: What has been so exciting that you can't sleep in recent years?
Moa: The most exciting thing recently was when I ate delicious cheesecake.
Q99: A word for readers.
Su: BABYMETAL is a group that continues to challenge. We will continue to believe in our way and go forward. We will continue to challenge that everyone thinks "What's this!? But it's interesting! Nice!"